Delayed Post— Good Friday Panata, March 30, 2018
The maids spent several days rolling the white towels so it would easier to flip them to the crowd, para merong force.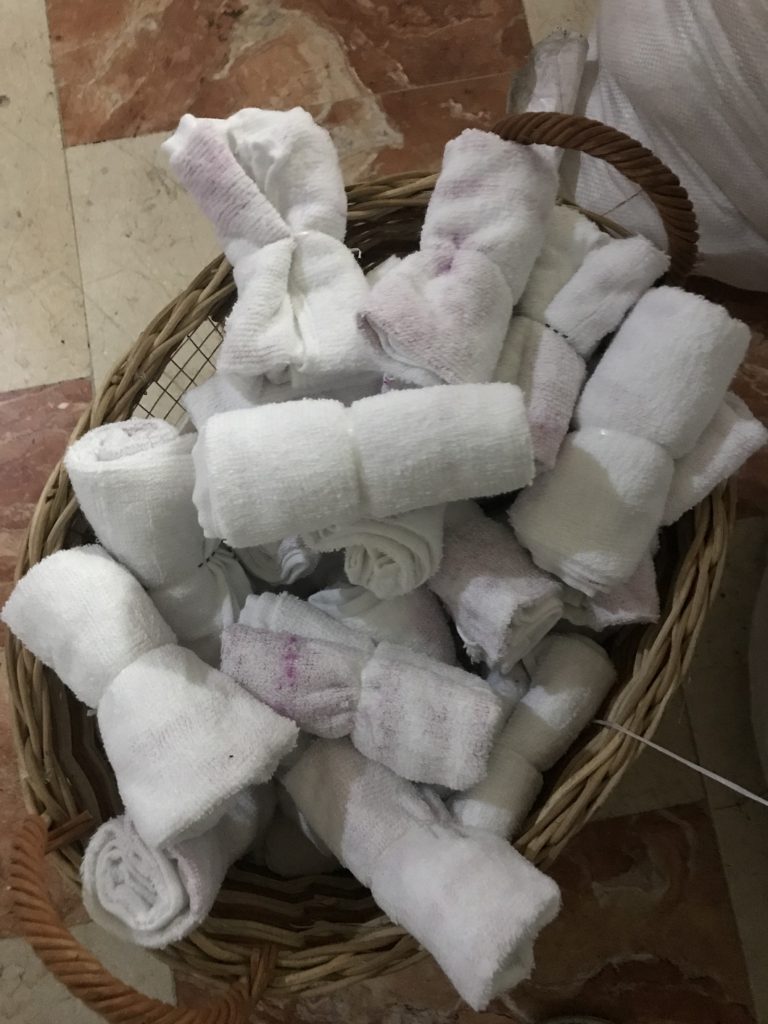 We arrived in Binangonan at 2 pm, quite early but it gave us extra time to prep the area.
The mango tree has grown so big and the leaves were reaching the fence. We trimmed the branches.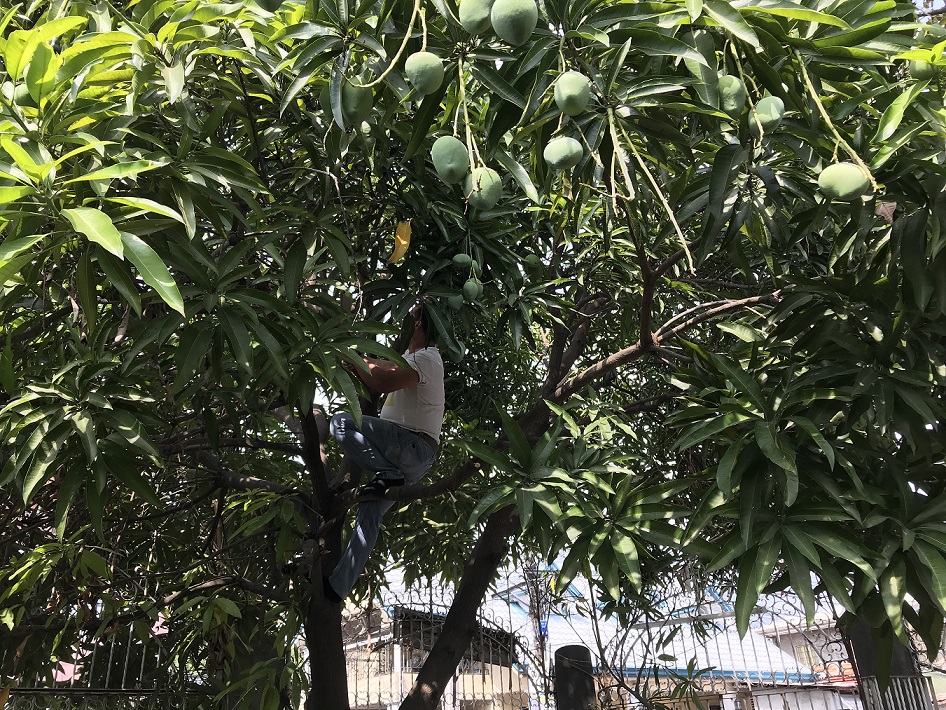 Antonia cooked pancit canton for all of us.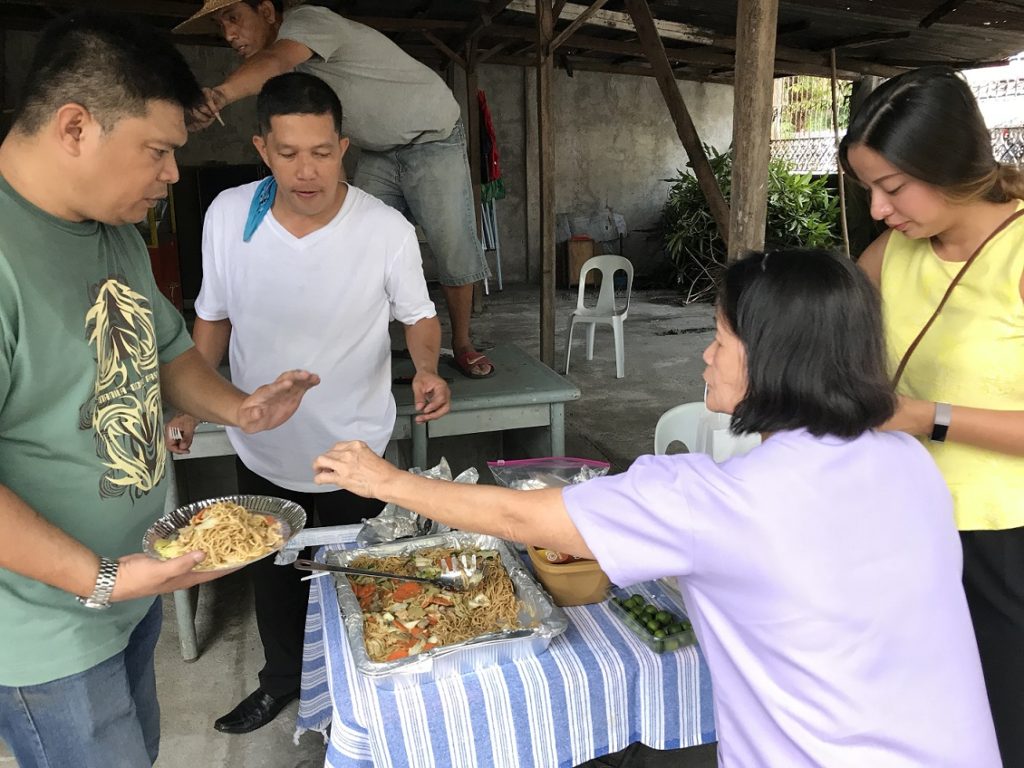 Angie and Len came home from the US for their high school batch grand reunion and for the Good Friday rites.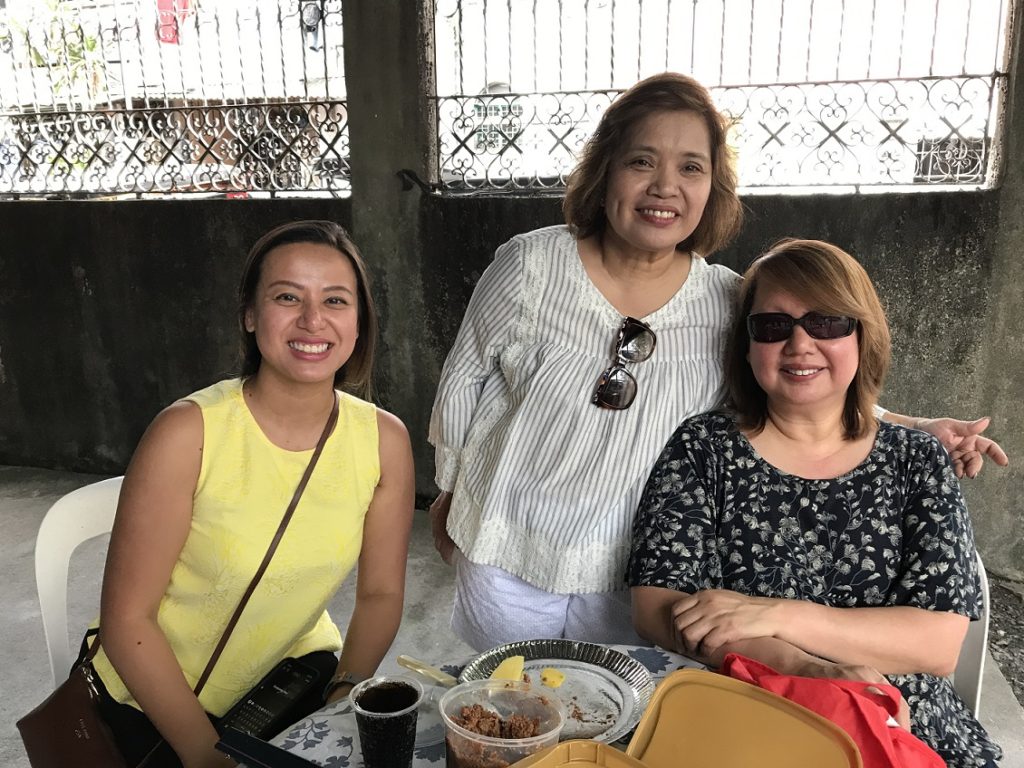 Len with Angel and Elsie. They are traveling to the US next month to attend the grand reunion.
Instead of fasting, Good Friday in Binangonan is feasting on delicious town favorites such as ginataang hipon.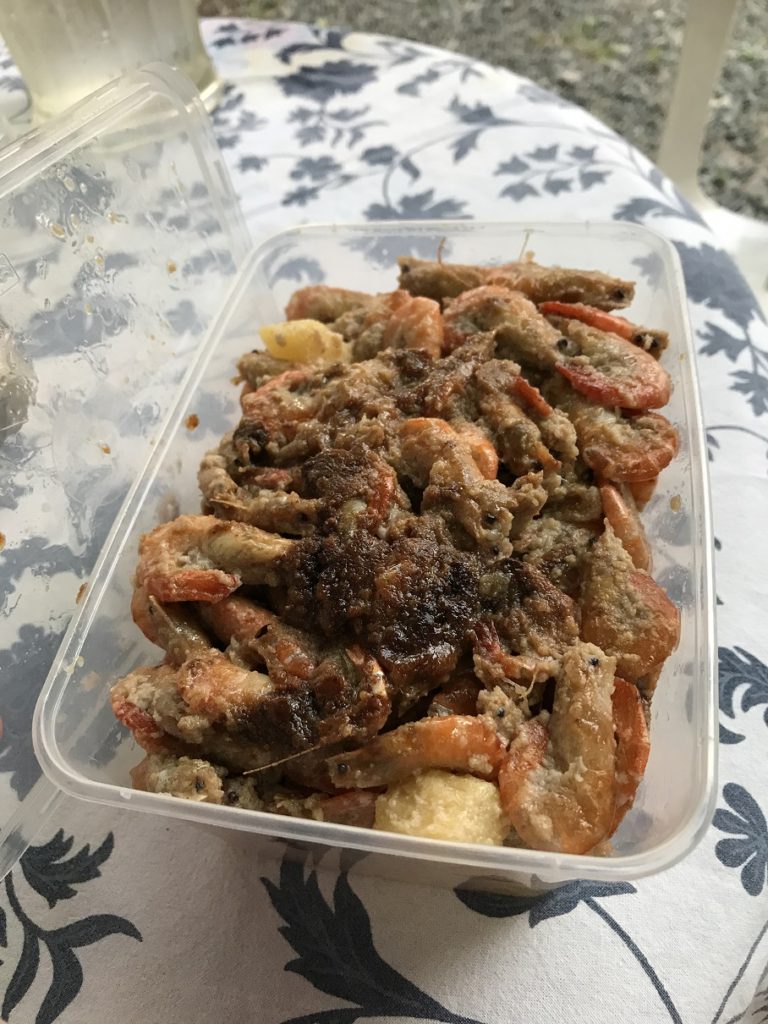 Inihaw na dalag, with kalamani and patis sawsawan. OMG sa sarap!
My daughter didn't mind helping me with my yearly panata. Napagod din sya.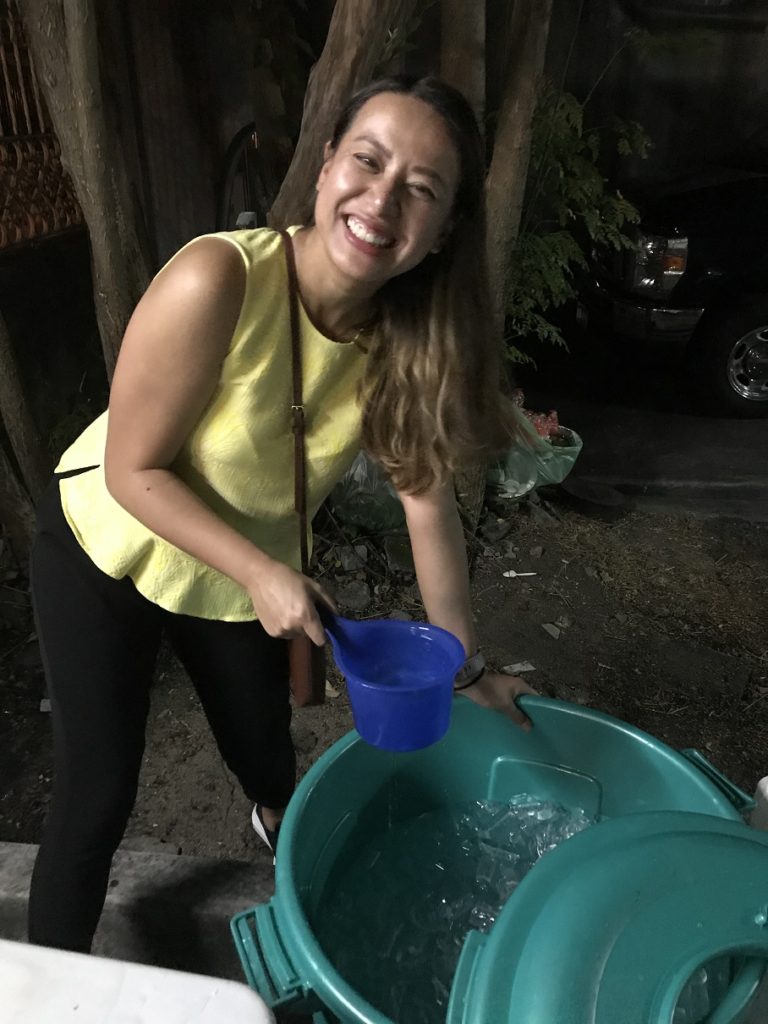 Every year we think of ways to efficiently distribute the towels but so far there's no way around it. Ganun pa rin, nagkakagulo sila.
I can't do this alone. I need at least 8 people to help me stage this every year. Good, Len and Angie were here to help.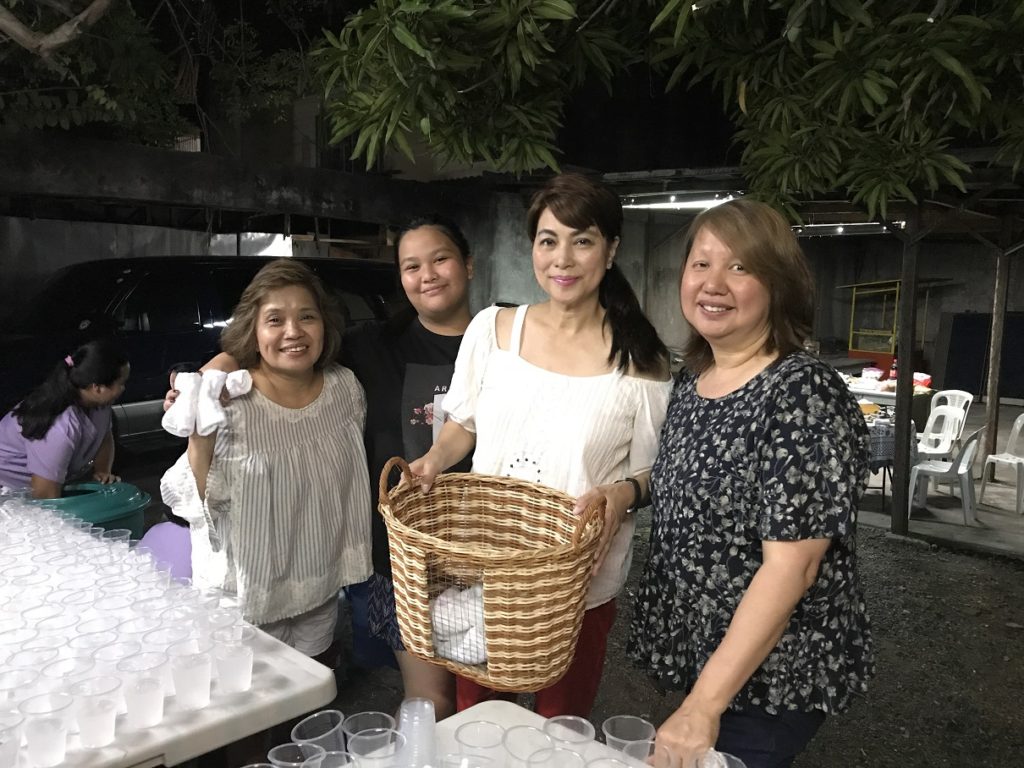 Every year I increase the number of towels I give away. I think I started with 500 pieces,  now it's 2,500. It will never be enough. Yung iba naman nado-doble ang kuha.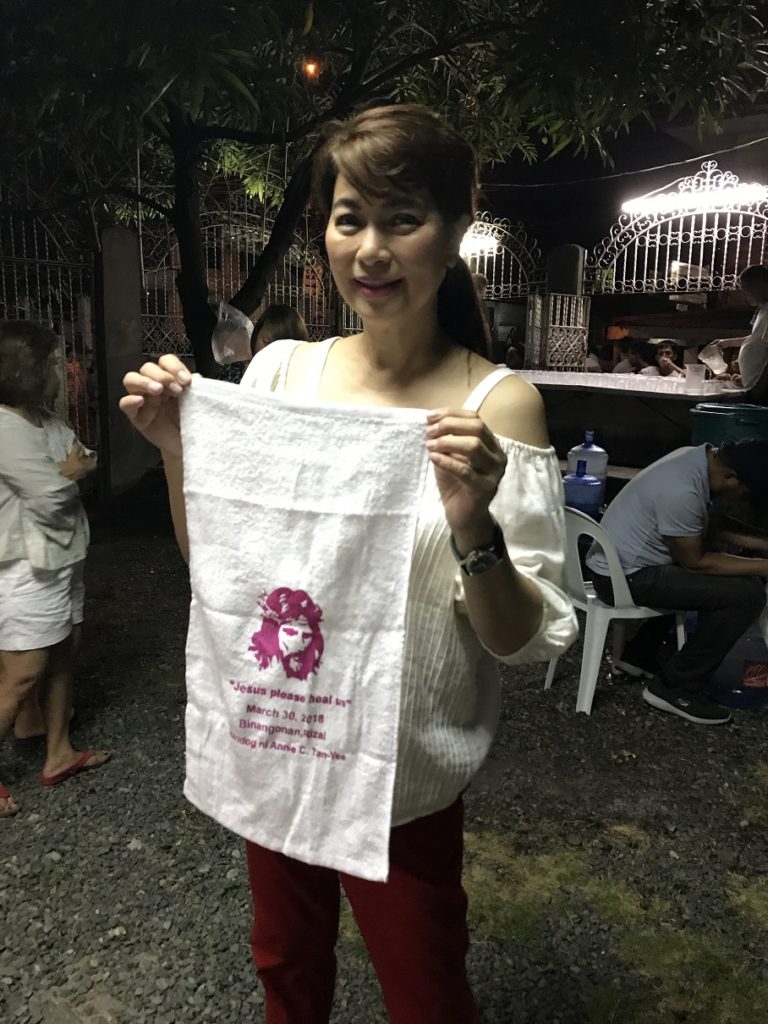 The first few years I gave away face towels,  then I decided to have the bigger ones,  hand towels.  I have to choose the thickness of the cloth.  We can't print on it if it's too thick. If it's too thin parang tissue paper naman sa nipis. I can't do embroidery because it would be impractically expensive. The supplier keeps increasing the price every year. This simple towel plus print cost me around P20 each.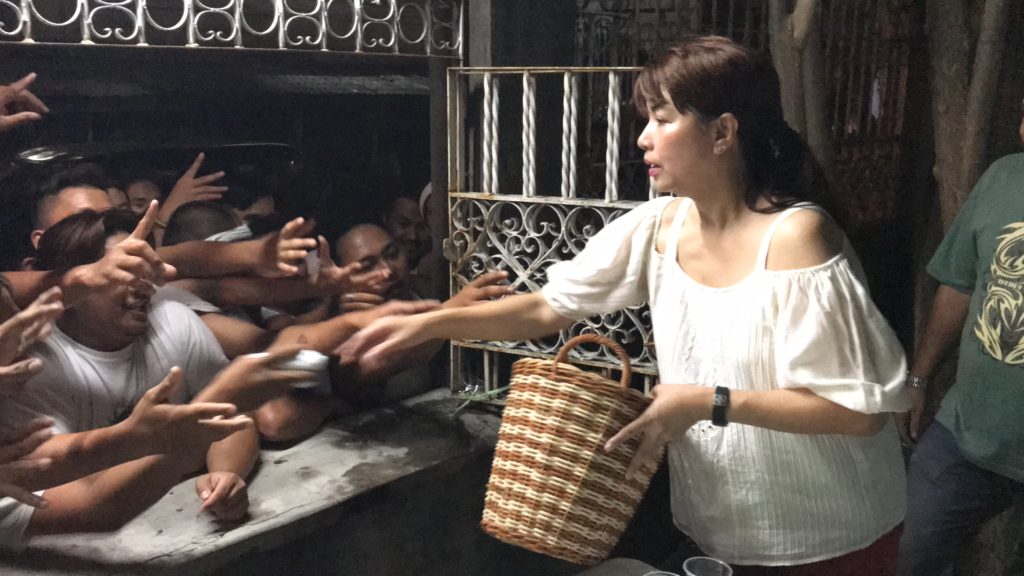 Next year we will probably use paper cups.   Although it would cost more than double or even triple. we want to be more environmentally friendly.  I hate to think that some of the cups we use  end up littering the canals, rivers, and lake.  Yeaoww.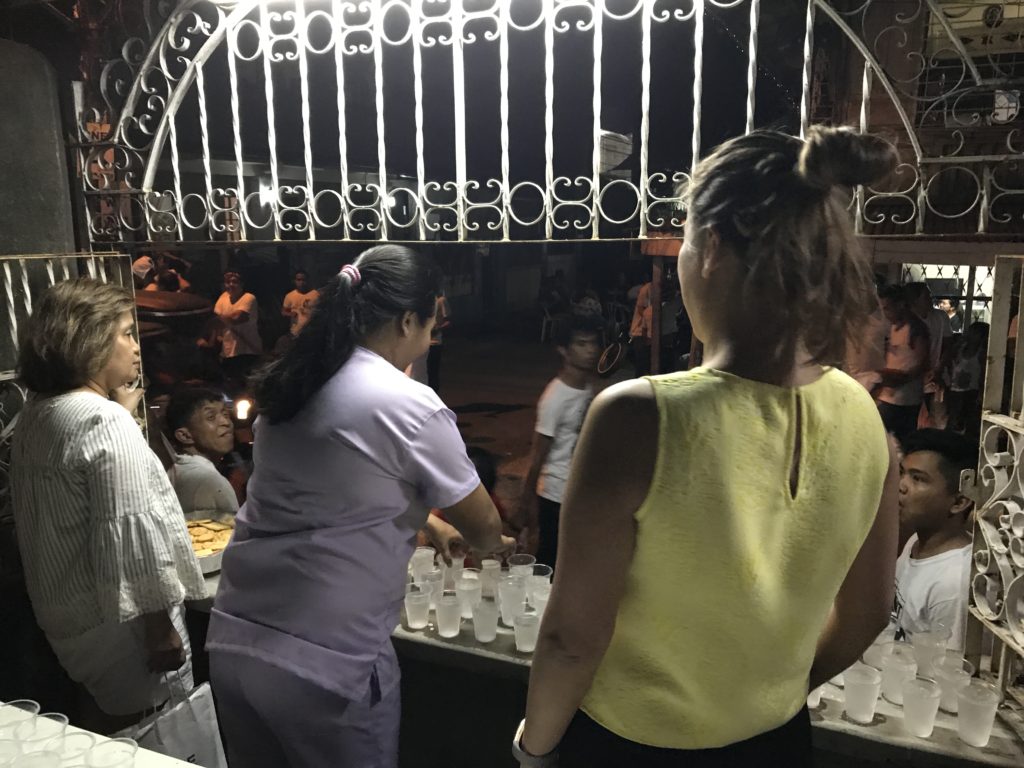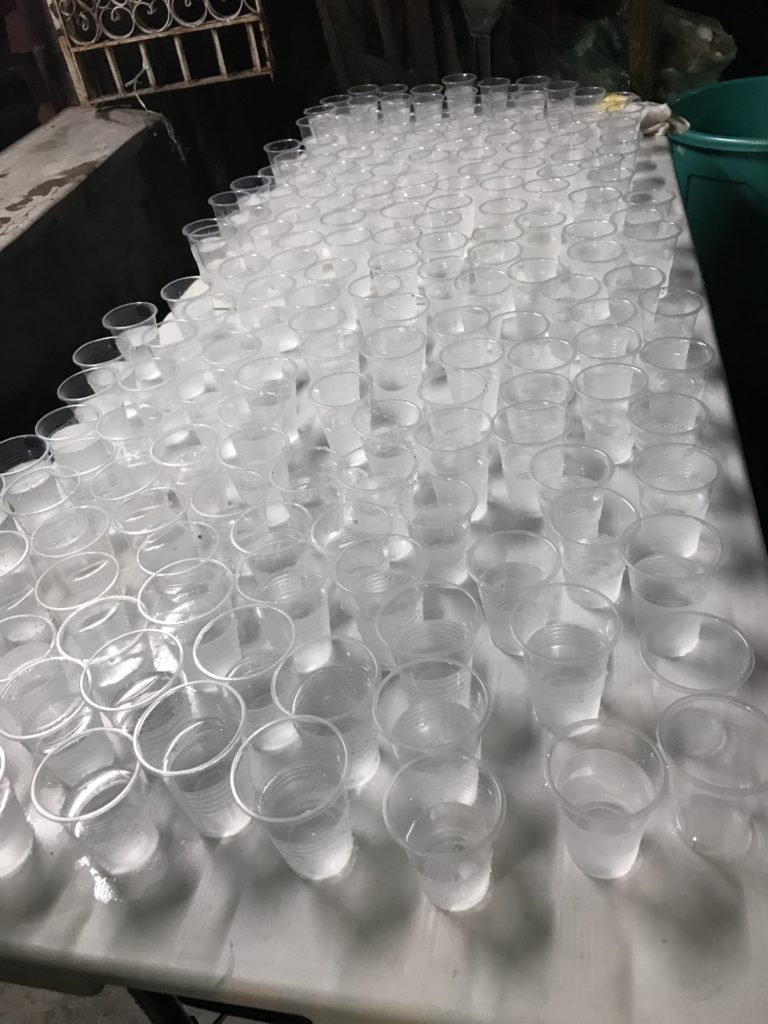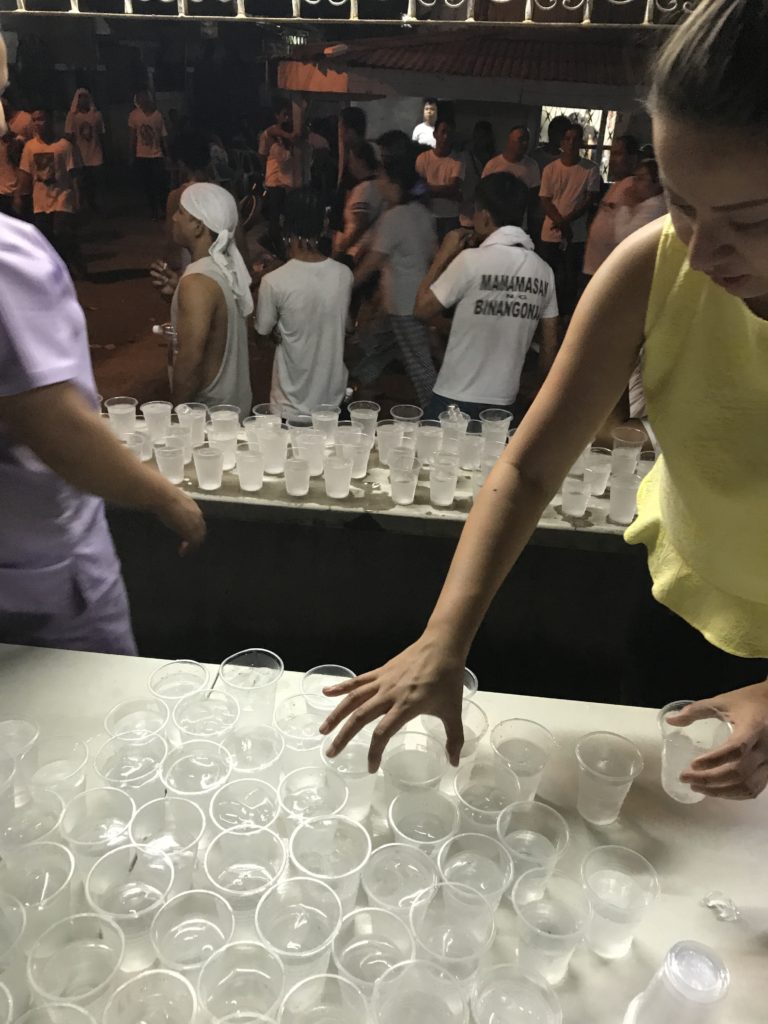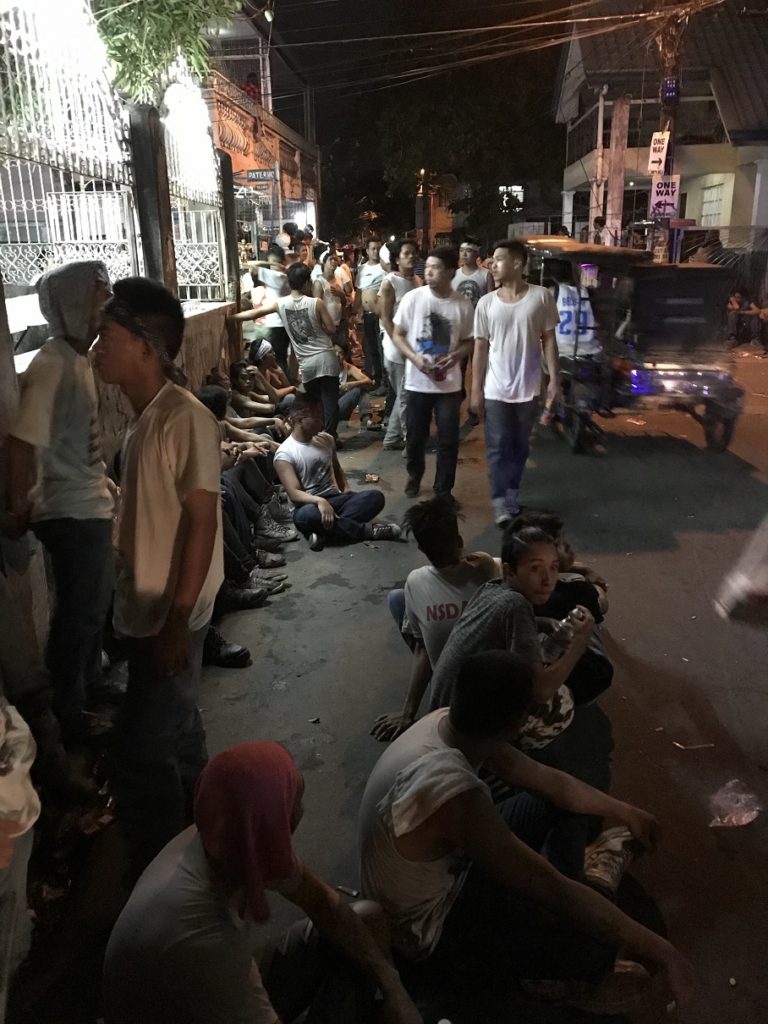 The Good Friday procession started late at 7 pm unlike in the past when the first batch of mga santo were out by 6 pm. This year, it was already dark when the procession reached our spot.
After the first group of saints, there usually is a one or two hour lull before the giwang-giwang comes at around 10:30 or 11 pm. This year, it was already midnight and wala pa yung salto entierro.
it was the latest that we've expeirenced so far. In the past few years, we were already home by 12 midnight – 12:30 the latest.
Eto yung mga lalaki na bumuhat na sa giwang-giwang and were waiting for their second wind.  Pawis na sila that's why their white t-shirts were now grayish.  The white towels I gave away  were also used by some to wipe their perspiration.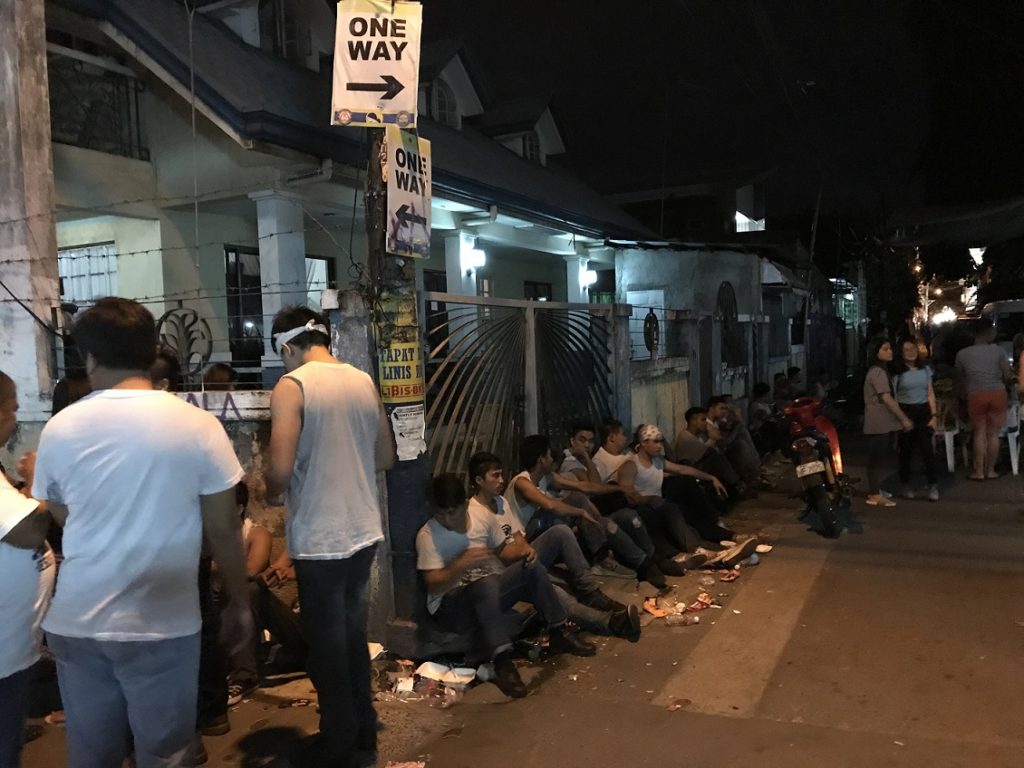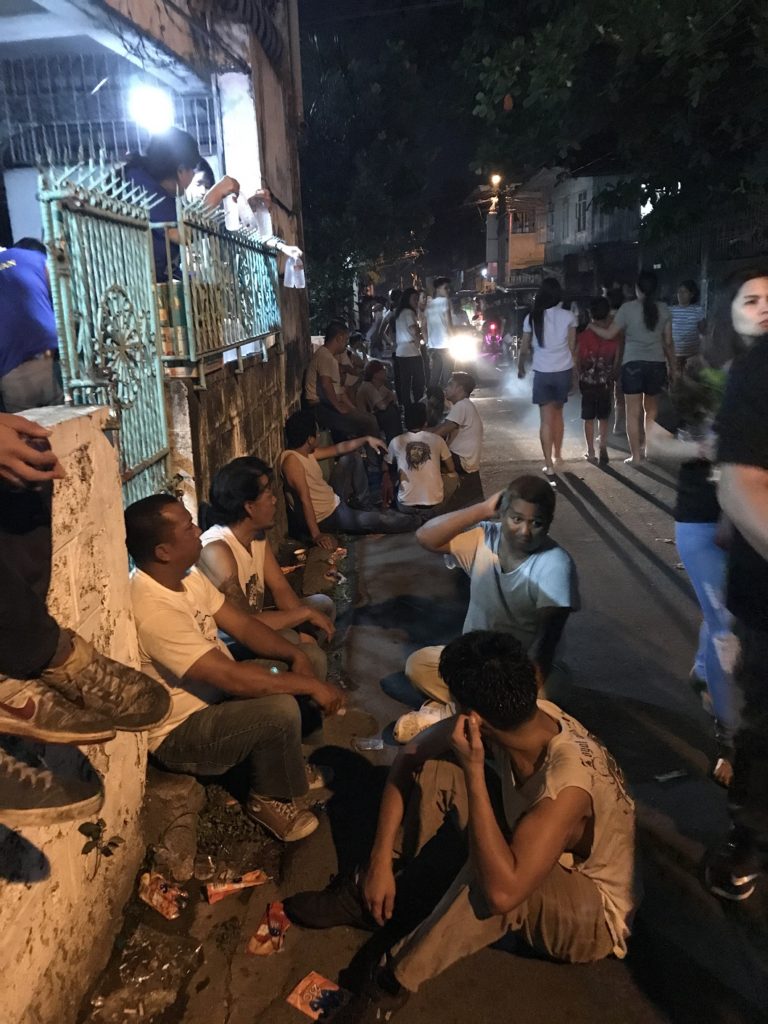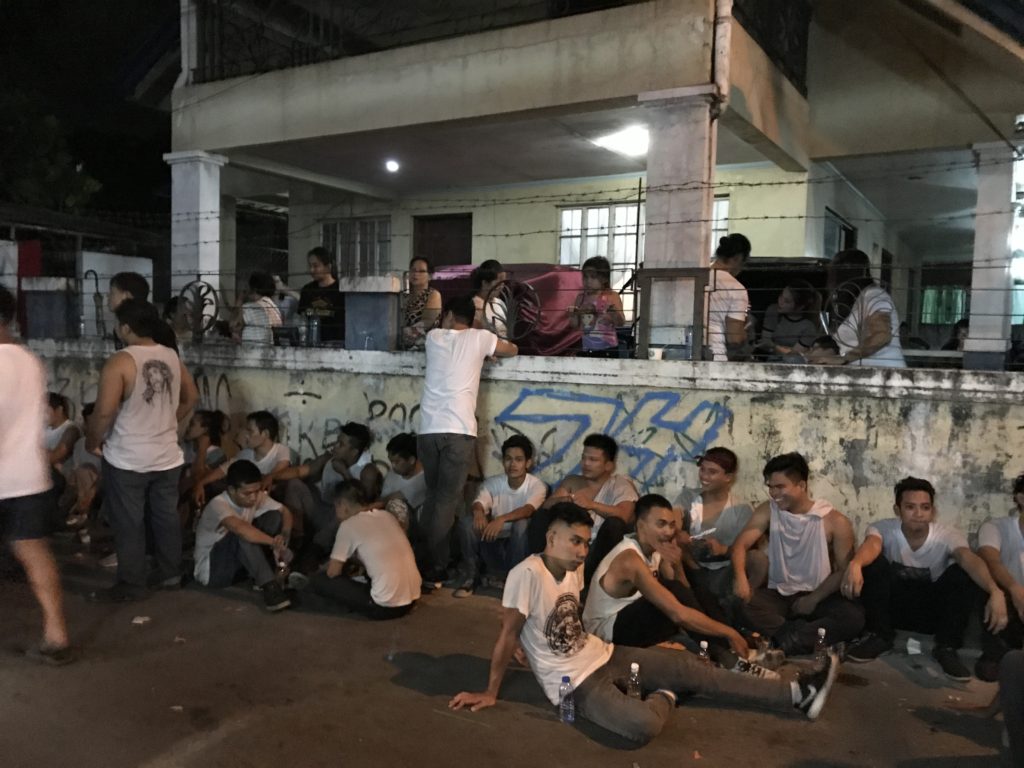 I have four brothers much older than me. I grew up seeing them looking like this men too on Good Fridays.  Pawis-pawis.  Kasi sila rin nakikibuhat sa giwang-giwang. Every men in our town (during those days) had experienced joining in this religious ritual at least once in their lifetime.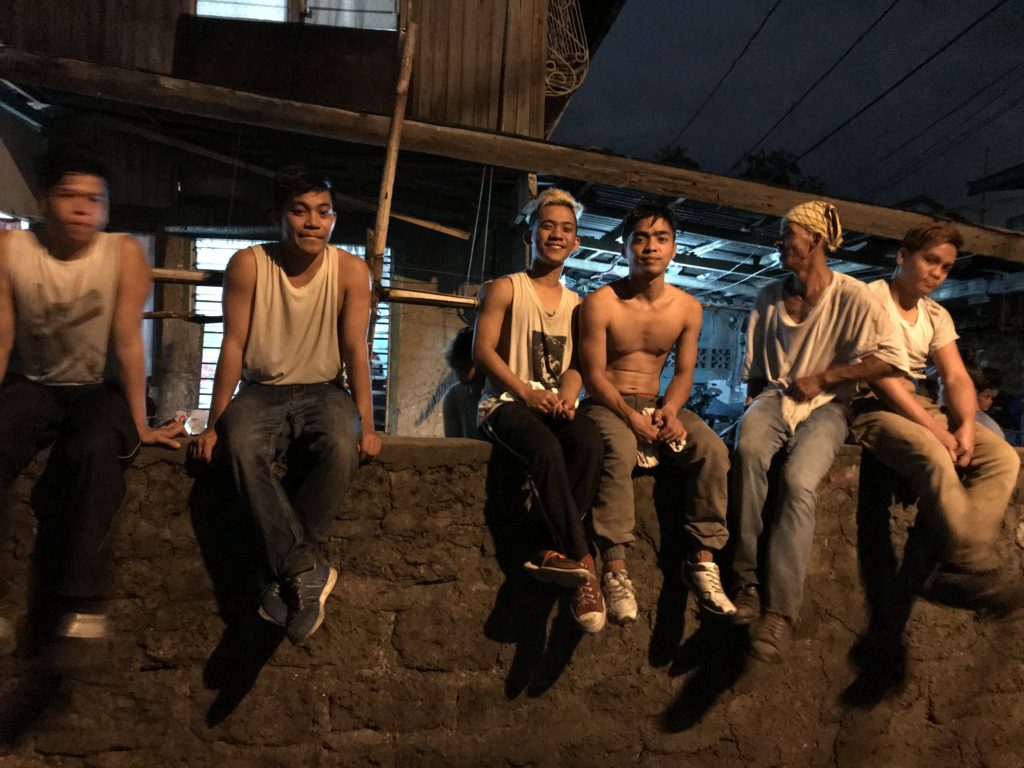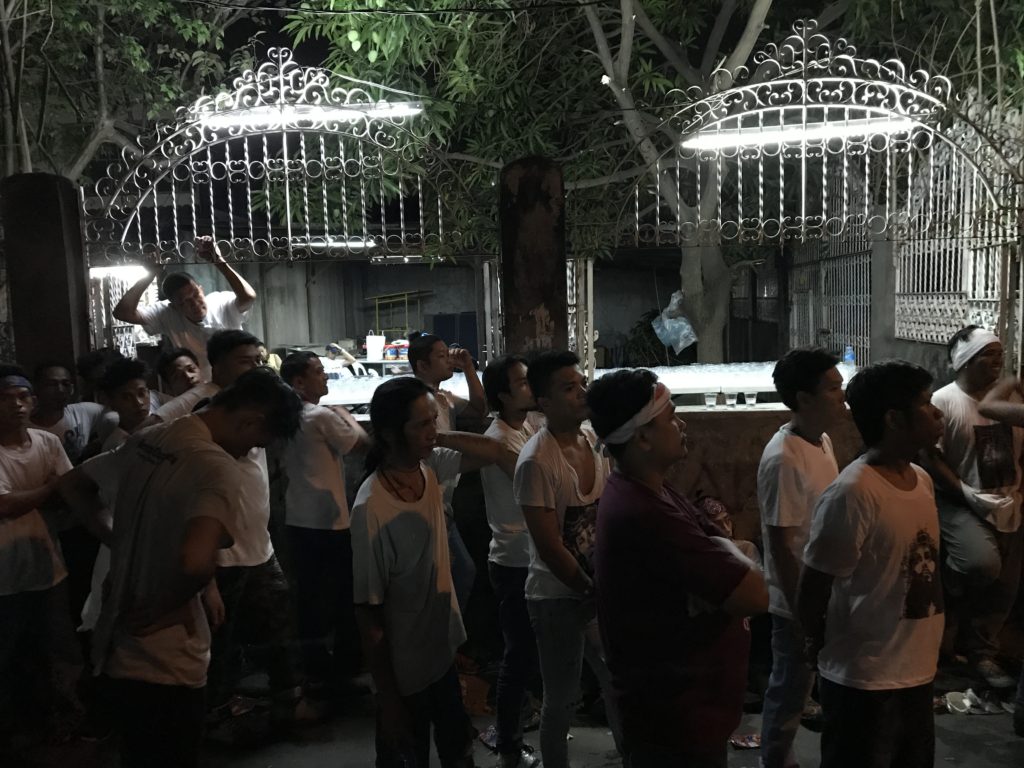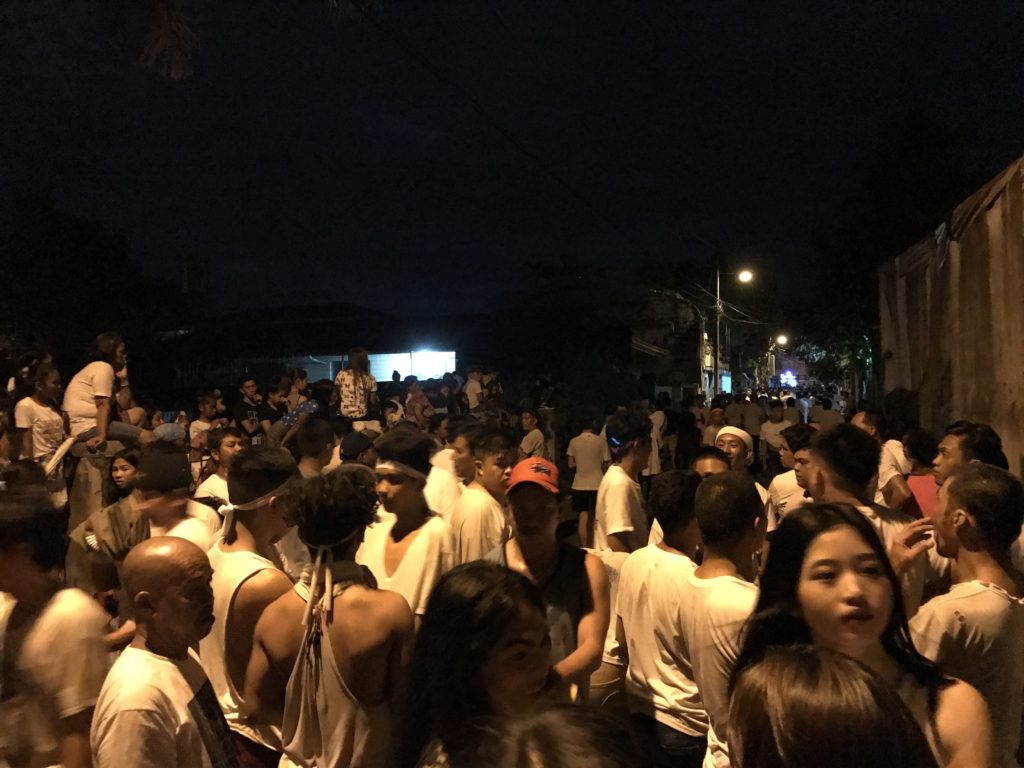 The Santo Entierro which I grew up knowing as the Giwang-giwang, reached our spot at 1:30 am. That was a record.
Sa tagal ng intay namin for some reason we thought matagal pa, then all of a sudden the Santo Entierro was already there in front of us. By this time we've given away most of the towels except for a few we kept for our personal use. The one riding on the carossa of Jesus caught the towels, wiped it on the statue of Jesus then he threw them back to us.

At 1:30 am, we were still there giving away ice cold water and biscuits.

The image of the Virgin Mary is under the care of the family of Monet Vital with her parents Ka Peping (+) and Ka Tessie Vital, their siblings and cousins. The statue is always positioned after the giwang-giwang together with several other female santos.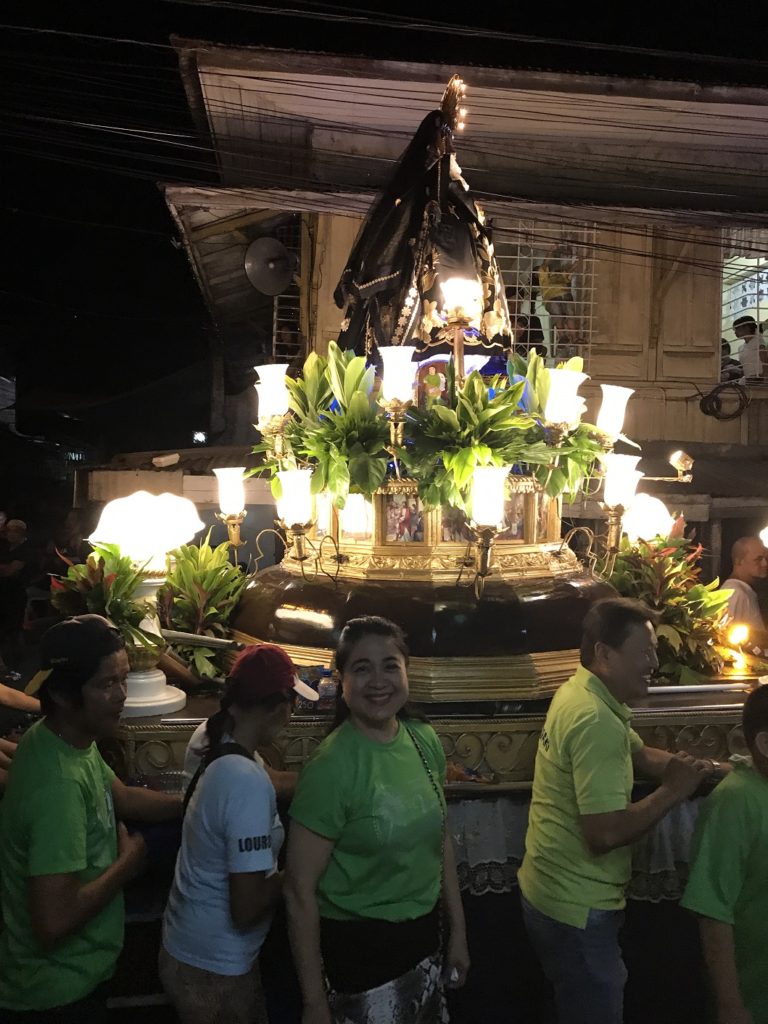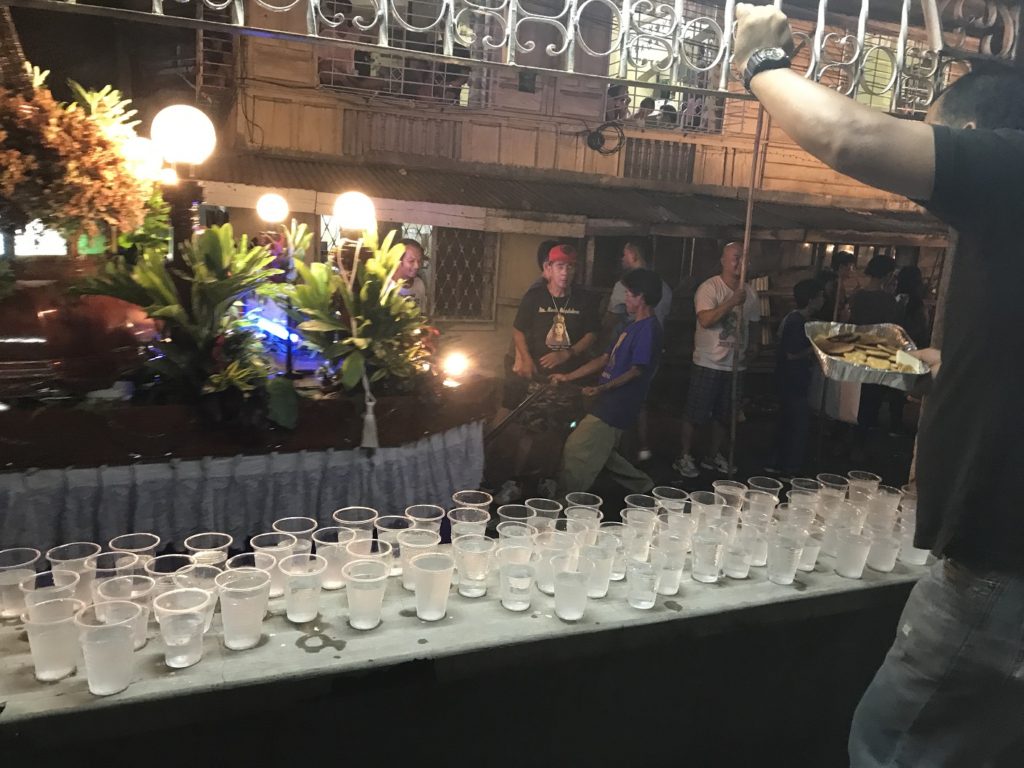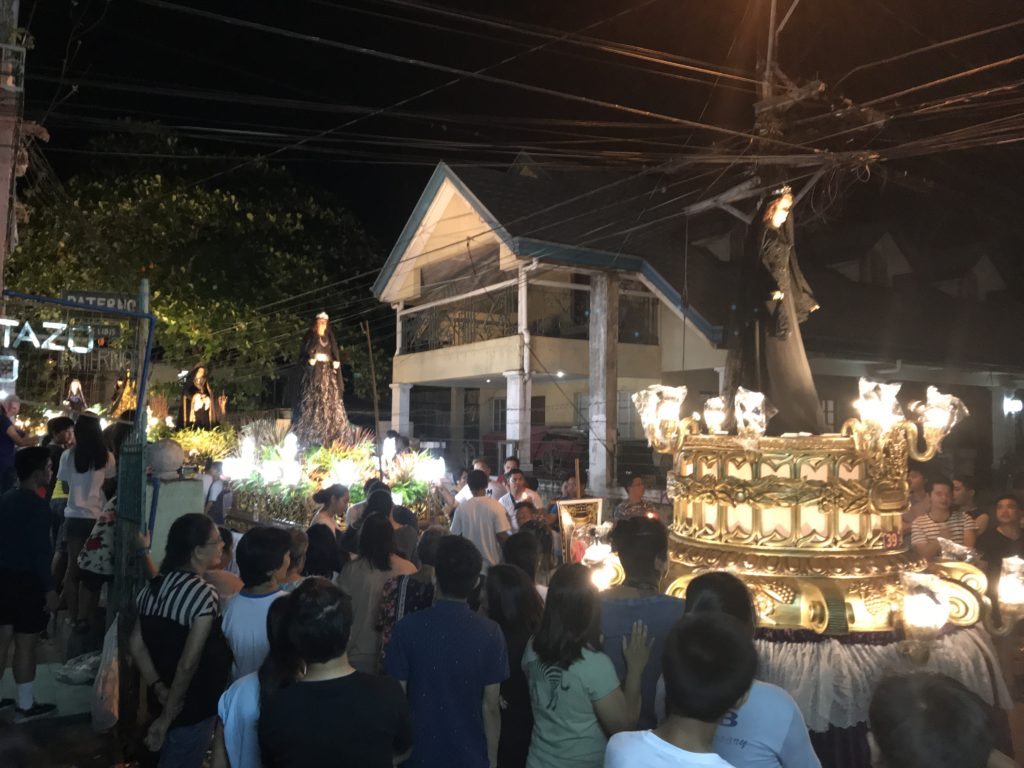 I am praying that God continue to bless us with physical strength to do this again next year and the years after that.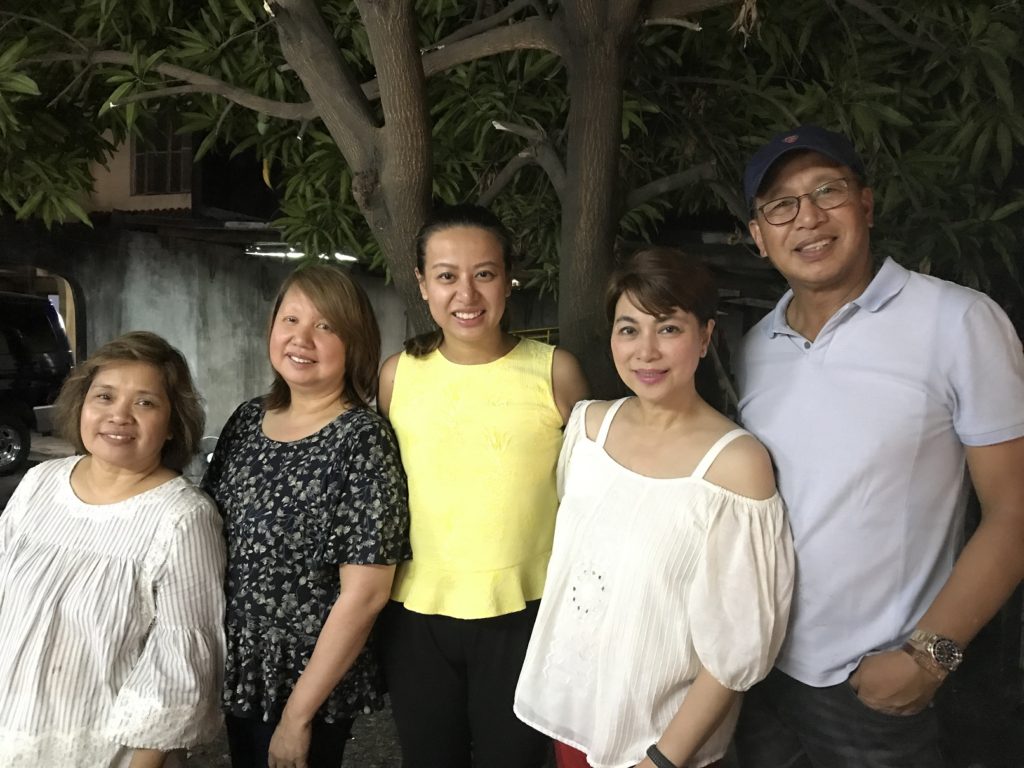 Mission accomplished with the help of my family.

Another year has passed. A year full of challenges but at the same time a year filled with God's infinite love, generosity and compassion.
Panata continues…